We at Frumptarn would like to invite you to become a very special friend, by joining our Band Patron Scheme. By doing so you would be helping the band to survive financially so we can continue to perform at venues around the area and spread Guggen music to the good folk of Yorkshire and beyond!
To become a Frumptarn Patron costs just £10 for a year.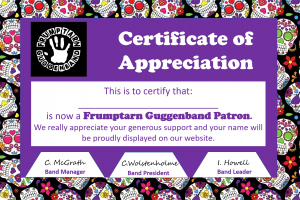 In return we'll send you in the post a certificate, two free badges, two free wristbands and your name will be proudly displayed on our website.
You can pay by paypal by clicking the donate button. If you wish to pay by cash/cheque then please send an email to frumptarn@live.co.uk for more details.
HUGE THANK YOU TO